Witajcie! Poniższe zdjęcia kolekcji znalazłam na innym blogu i nabrałam ochoty na więcej. Niech sobie będą najmodniejsze w tym sezonie, schodzące z najwyższych wybiegów, gwiazdki i kropki, pozdrawiam i najlepszego dla nich, ale mnie te wzory kojarzą się z tandetą.
Za to kolekcja projektantki Uliany Sergienko (tak poza tematem, całkiem pięknej kobietki) - fantastyczna w moim odczuciu i idealna na rozpoczynającą się jesień. Nawiązująca do stylu lat pięćdziesiątych.
Nie mam w swojej szafie tego typu krojów, a trochę żałuję. Lubię w nich mocno podkreśloną talię. Moją faworytką jest czerwona sukienka, zresztą tego koloru brakuje mi od jakiegoś czasu - dlatego też za średniej długości czerwoną sukienką się rozglądam.
EN/ I fell in love with dresses created by Uliana Sergienko. I'd like to see a red one in my wardrobe! The collection was fifties-styled. I found these pictures on the blog
miss-fashionmix.blogspot.com
and had to type the designer's name in Google. I didn't know her before, what a shame :). Uliana is a creative, beautiful and interesting-looking woman. Which picture is your favourite one?
2.
6. nawet futro zdołało mi się spodobać:)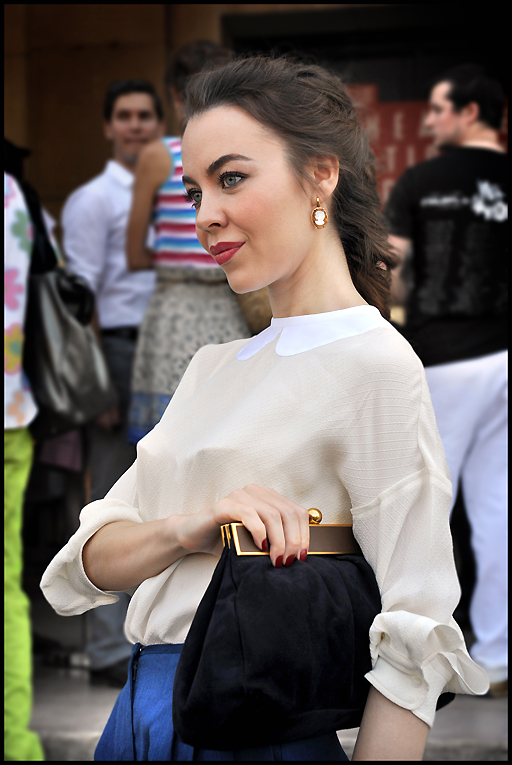 Uliana Sergienko
kisses